Kepler's Cowboys
Edited by Steve B. Howell and David Lee Summers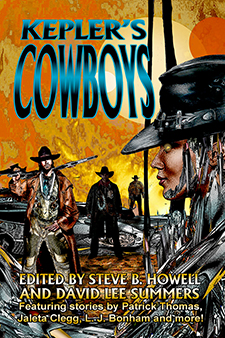 NASA's Kepler Space Telescope has discovered thousands of new planets.
Visiting, much less settling, those worlds will provide innumerable challenges.
The men and women who make the journey will be those who don't fear the odds.
They'll be Kepler's Cowboys.
Saddle up and take an unforgettable journey to distant star systems. Meet new life forms—some willing to be your friend and others who will see you as the invader. Fight for justice in a lawless frontier. Go on a quest for a few dollars more. David Lee Summers, author of the popular Clockwork Legion novels, and Steve B. Howell, head of the Space Sciences and Astrobiology Division at NASA Ames Research Center, have edited this exciting, fun, and rollicking anthology of fourteen stories and five poems by such authors as Patrick Thomas, Jaleta Clegg, Anthony R. Cardno, L.J. Bonham, and many more!
---
Table of Contents
Introduction by Steve B. Howell and David Lee Summers
Step Right Up by Louise Webster
Pele's Gift by Gene Mederos
Over the Ridge by Terrie Leigh Relf
Chasing May by Anthony R. Cardno
Aperture Shudder by Jesse Bosh
Voyage to the Water World by Livia Finucci
The Silent Giants by Simon Bleaken
Calamari Rodeo by David Lee Summers
Tears for Terra by J.A. Campbell and Rebecca McFarland
Kismet Kate by Neal Wilgus
Carbon Copies by David L. Drake
Assembler by Doug Williams
Twin Suns of the Mushroom Kingdom by Jaleta Clegg
Point of View by Lauren McBride
A Very Public Hanging by L.J. Bonham
The Outlaw from Aran by Vaughn Wright
The Misery of Gold by Steve B. Howell
Backstabbers and Sidewinders by Patrick Thomas
Forsaken by the God-Star by Gary W. Davis
About the Authors
Copyright 2023 Hadrosaur Productions